Medical Hyperbaric Oxygen Treatment is accepted for reimbursement by Health Insurers in Ireland and internationally.
This cover is provided because of proven efficacy for approved conditions.
The studies which proved beneficial outcomes are all based on internationally-accepted medical treatment protocols:
using medical oxygen (as close to 100%-pure as is achievable) as the prescribed medication,
in a certified medical chamber (monoplace or multiplace)
at pressures up to 2.4ATA
There are significant differences between approved medical treatment protocols and the types of "hyperbaric" "treatment" offered by non-medical lay practitioners – so-called "mild HBOT" – which may be promoted with non-validated or preliminary studies or articles, and which may mis-state scientific findings for commercial purposes.
In order to show the measured differences in physiological response in patients undergoing medical hyperbaric oxygen treatment versus "mild HBOT", the following graphs show actual measurements of transcutaneous oxygen level that are physiologically achievable during treatment in the pressure chamber under the different scenarios.
These measurements are carried out using a Perimed Periflux 6000 device – modified for in-chamber operation. (Oxycare is the only Irish hyperbaric oxygen treatment centre which can carry out these in-chamber measurements).
---
---
OXYCARE'S Hyperbaric Chamber Class IIb Medical Device as per Regulation (EU) 2017/745 As Amended

Transcutaneous Oximetry – In- Chamber – 2.4 ATA
Transcutaneous Oximetry – Graphs
---
Transcutaneous Oximetry – In-Chamber – 2 ATA
Transcutaneous Oximetry – Graphs
2 ATA OF PRESSURE – (Mild Hyperbaric treatment)
Chambers that Only Achieve 2 ATA (atmospheres absolute ) compressed to a depth of 10 meters (33 Feet of Seawater) 695mmHg will NOT have the clinical Efficacy and Outcomes of 2.4ATA with medical Oxygen
These Chambers are not Classed as Class IIb Medical Devices.
---
Transcutaneous Oximetry – In-Chamber – 1.5 ATA
Transcutaneous Oximetry – Graphs
1.5ATA OF PRESSURE
Chambers that can only Achieve 1.5 ATA (atmospheres absolute)
(Soft or Mild Hyperbaric Chambers)
UHMS: Position statement Jan 22, 2017
Soft chamber treatments are FDA approved for acute mountain sickness only. Mild hyperbaric exposures with air delivery (enriched oxygen through a concentrator) deliver no more oxygen to the body than breathing medical oxygen by mask at sea-level pressure (no chamber).
Theses Chambers are not Classed as class IIb Medical Devices. (Regulation (EU) 2017/745 As Amended)
---
TPCO2 IN AIR BREATHING 100% MEDICAL OXYGEN – NO CHAMBER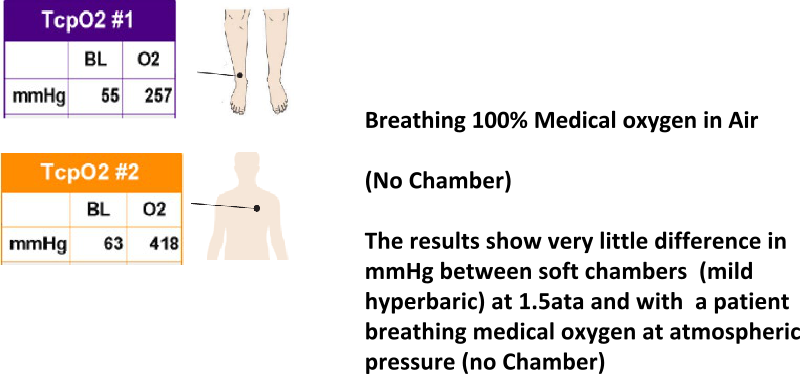 ---

AMA news
The American Medical Association has adopted a resolution opposing the unsafe use of so-called "mild hyperbaric oxygen therapy" in "mild hyperbaric facilities." The policy D-270.986, adopted 26 July 2022, was initiated by the Undersea and Hyperbaric Medical Society and represented by UHMS Past President Dr. Laurie Gesell, an active practitioner of hyperbaric medicine and a member of the House of Delegates (HOD), the legislative and policy-making body of the American Medical Association.
The resolution, which can be found here, reads:
Our AMA: (1) opposes the operation of "mild hyperbaric facilities" unless and until effective treatments can be delivered safely in facilities with appropriately trained staff including physician supervision and prescription and only when the intervention has scientific support or rationale; and (2) will work with the U.S. Food and Drug Administration and other regulatory bodies to close facilities offering "mild hyperbaric therapy" until and unless they adopt and adhere to all established safety regulations, adhere to the established principles of the practice of hyperbaric oxygen under the prescription and oversight of a licensed and trained physician, and ensure that staff are appropriately trained and adherent to applicable safety regulations.
As noted by the AMA, testimony on this issue was unanimously supportive of the resolution. Numerous safety concerns were noted regarding these facilities offering "mild hyperbaric therapy," such as inappropriate targeting of vulnerable populations, inappropriate dosing and delaying patients seeking proper treatment.
FDA endorsement
In a July 26 release entitled "Hyperbaric Oxygen Therapy: Get the Facts" the U.S. Food and Drug Administration cleared the use of hyperbaric oxygen therapy (HBOT/HBO2) for the treatment of several conditions. The release further states: "If your health care provider recommends HBOT, the FDA advises you get the treatment at a hospital or facility that has been inspected and is accredited by the Undersea and Hyperbaric Medical Society."
The agency advises that individuals seeking hyperbaric oxygen therapy check with their health care provider to make sure they are pursuing the most appropriate care, noting that some facilities operate outside recognized FDA guidelines. "The FDA is aware there are some hyperbaric oxygen treatment centers promoting hyperbaric oxygen chambers for uses that have not been cleared or approved by the FDA, such as treatment of cancer, Lyme disease, autism, or Alzheimer's disease."
Some background
The UHMS has expressed concern over the use of unsafe and misleading practices in hyperbarics. In January 2017, the Society issued a warning against the use of low-pressure fabric hyperbaric chambers. Revised in 2018, the statement can be found here: https://www.uhms.org/images/Position-Statements/UHMS_Position_Statement_LP_chambers_revised.pdf
FDA-cleared conditions to be treated with hyperbaric oxygen
Taken from MedWatch, The FDA Safety Information and Adverse Event Reporting Program, the FDA has cleared hyperbaric oxygen therapy for treatment in these disorders:
air and gas bubbles in blood vessels
anemia (severe anemia when blood transfusions cannot be used)
burns (severe and large burns treated at a specialized burn center)
carbon monoxide poisoning
crush injury
decompression sickness (diving risk)
gas gangrene
hearing loss (complete hearing loss that occurs suddenly and without any known cause)
infection of the skin and bone (severe)
radiation injury
skin graft flap at risk of tissue death
vision loss (when sudden and painless in one eye due to blockage of blood flow)
wounds (non-healing, diabetic foot ulcers)